MPO Connections – Searching for Targets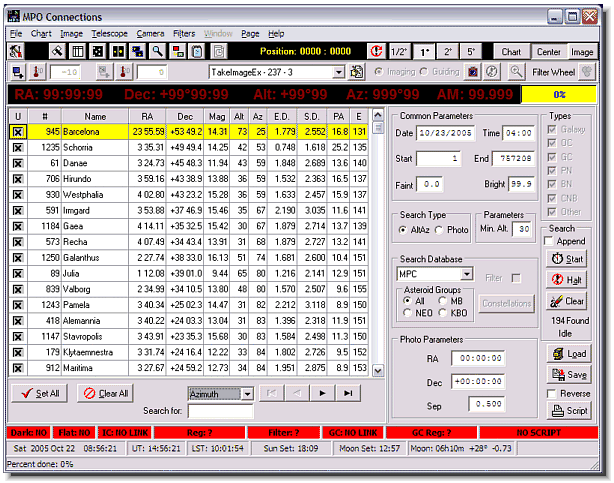 With the search feature of Connections, you can easily find suitable targets and prepare a script for an automated run. You can search for asteroids, deep-sky objects, and galaxies above the horizon at a given date and time. Once you have the initial list, it's a simple matter to create a Connections script and start imaging.
The generated script can contain a number of commands, each associated with a GotoAsteroid (or GoToRA based on catalog positions for other types of objects). A script template editor allows you to create those default commands so that, for example, after each GotoAsteroid, there is a WaitFor (15 seconds), and a TakeImage with a default of 120s. Better yet, each different object gets its own subdirectory under the base directory you specify - all automatically! In many cases, you can go from search to imaging via the generated script without editing a single line (though you may need to add a few lines at the beginning of the script for initial setup and, autofocusing, and an occasional Sync).