MPO Connections - Telescope Control

You can manually aim the scope by using one of several catalogs or entering the position directly.
If you select one of the catalogs and then click the Catalog button, a selection form appears. When you select an object, its position is entered automatically in to the positioning controls. These same selection forms appear when you ask for help when creating a script.
Using the Chart to Position the Telescope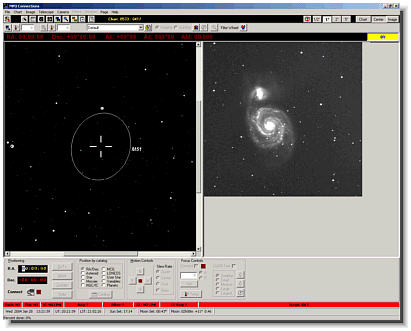 Each time you move the scope to a new position via one of the positioning methods, a new chart is drawn in the Chart area. This chart is centered on the reported position of the scope. You can reposition the scope to stars within the chart quickly and easily. You can also use the chart to update the telescope positioning (where the telescope computer thinks it's aimed) to the actual position of the scope.
For more about telescope control with Connections, download the MPO Connections manual (PDF).