MPO Asteroid Viewing Guide - Overview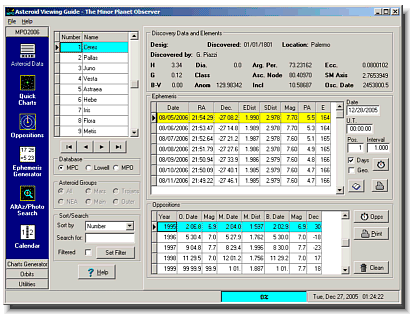 The MPO Asteroid Viewing Guide provides all the information you need to put together an asteroid observing session. With it you can find those asteroids within reach of your equipment and above the horizon, generate ephemeredes and finder charts, review which asteroids are reaching their brightest, minimum distance, or opposition on a given date, and much more. Also included are tables listing appulses (close approaches) of asteroids to deep-sky objects, brighter stars, and even other asteroids.
There are pre-generated ephemeredes for the numbered asteroids (at the time the database was generated) that cover a 30 day span centered on the date the asteroid is brightest in the current year. A "Quick Charts" feature lets you create a finder chart for a given asteroid that you can print out and take to the computer or telescope.
The MPO CD comes with recent versions of the Minor Planet Center and Lowell Observatory asteroid databases. Utility programs are included to convert the latest version of these databases off the Internet to a format compatible with the MPO programs. You'll always be up-to-date!