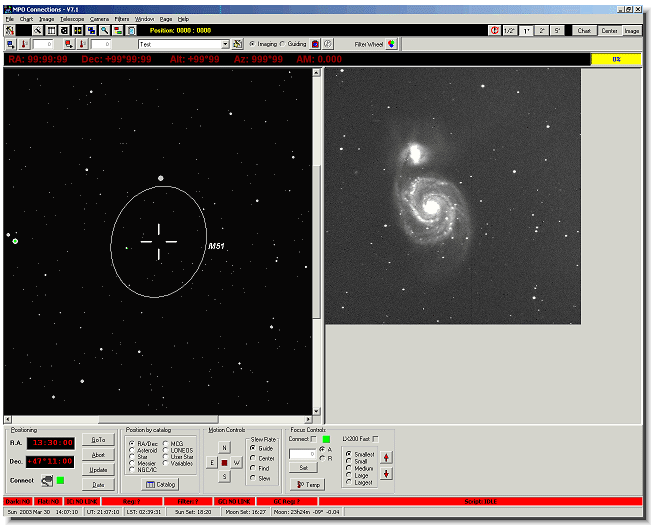 Testimonials
The power of MPO Connections is awesome! – L.R, KS
"The fun thing was that I had to go to a family engagement last night. So, before I left, I set up a script to sit on a star in Pegasus and Sync every 15 minutes. Then, when the asteroid cleared the walls of my observatory, the telescope would go to a nearby Hipparcos star, Sync, take images in two filters, and move on to the asteroid and repeatedly take images in two filters. It repeated that process every 30 minutes until I got home and found it had clouded over. But the images all found their targets and the data is there." – R.S, CA
"I am blown away by how beautifully the software works! Watching as Connections creates a long target list out of a list of many thousands, translates into a script, patiently steps through hundreds of commands, coordinating multiple pieces of hardware made by different manufacturers, hunting for (and finding!) a guide star, taking a tracked image AND dark, saving them by target name to directories distant on the network, all I can say is... aaaahhh!" - D.D., WA
About MPO Connections
MPO Connections was written for a selfish reason: I wanted to do other things, like sleep, while the LX-200 and SBIG ST-8 took images for asteroid astrometry. It rapidly became much more than a simple Goto/Take a picture program. Many of the features being touted as revolutionary in some programs have been in MPO Connections for years.
Drift scanning (TDI) has been implemented for most SBIG and FLI DM cameras. This is a great technique for covering huge areas of the sky with sharp images, even without a having a scope with a motor drive.
Worried about losing focus? No need. Connections can automatically reset the focus periodically during the night. You can even have it change the focus when you change filters (stepper motor focusers only)
If you have an active Internet connection, then Connections polls a time server on the internet every 10 seconds, keeping the system clock to within 100 milliseconds (0.1s) or better of true time.
Simple Scripting for Complex Problems
There's no programming with MPO Connections. Instead you build scripts in a spreadsheet with drop down commands and automatically entered default values. More than 40 script commands allow you complete control, even to shutting down the camera and scope at the end of the run. Using additional software, it's possible to have the dome close when clouds roll in or at the end of the night.
With MPO Connections, you can take tracked images that guide on a star or the motion of an asteroid. It will even find the guide star for you during a script. Multiple multi-filter tracked imaging is also possible. Imagine taking a series of B/V/R images of a variable star all night, accurately guided, and you're nowhere near the scope or computer!
Download the MPO Connections manual (PDF).
Pricing
DVD – $100. Includes expanded MPOSC3 with 300M stars, UCAC-3 catalog, and sample images.
Price includes non-refundable shipping/handling fee for orders to North America. Orders are sent Priority (U.S.) or First Class (North America). Add $10 per order (non-refundable) for Air Mail elsewhere. (1 pound limit. Additional charges may apply for heavier shipments).