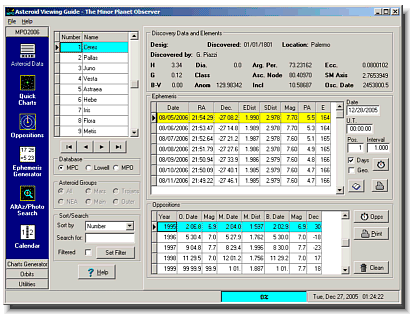 Buy MPO Asteroid Viewing Guide
Testimonials
"Through the help of the MPO [Viewing Guide] photo search, I could positively link an orbit from 1993 (6 positions with an arc of only 30 days) with old positions from 1953. With the improved MPC-orbit, it showed that the MPO [Viewing Guide] calculated position with the 30 day arc-orbit, perturbed to 1953, was off by only 1.0 arcmin, which was quite amazing to me...! It shows that the initial orbit was quite good and MPO2000 did its job admirably. Therefore I regard MPO2000 as a powerful tool to help in quickly identifying objects with positions back in time for up to 5 decades (with certain obvious precautions regarding error-boxes)." P.T. - Austria
About MPO Asteroid Viewing Guide
The MPO Asteroid Viewing Guide serves as a companion to MPO Canopus and Connections by providing detailed information about the numbered asteroids. Support for the MPC and Lowell databases is included so you can generate ephemeredes and finder charts for other objects as well.
A complete listing of opposition data for the numbered asteroids lets you determine which asteroids are reaching a favorable opposition and so deserve particular attention.
A Daily Calendar lets you preview upcoming events such as close approaches (appulses) between asteroids and deep-sky objects, brighter stars, and even other asteroids.
About Manuals
Due to its low cost, the MPO Asteroid Viewing Guide does not have a PDF manual. There is complete on-line help available once the program is started.
Pricing
DVD – $25. Includes expanded MPOSC3 with ~300M stars, UCAC-2 catalog, and sample images. The UCAC3 DVD from the USNO is also included at no additional charge, while supplies last.
Price includes non-refundable shipping/handling fee for orders to North America. Orders are sent Priority (U.S.) or First Class (North America). Add $10 per order (non-refundable) for Air Mail elsewhere. (1 pound limit. Additional charges may apply for heavier shipments).
Please Note
This is an annual release - just like an almanac, with much of the pre-generated information specific to the given year. There are no free upgrades from one year to the next, though updates with minor bug corrections or enhancements may be available for the current year's release.