The TakeImageEx and Shift commands can be very useful in a script where you're taking twilight flats. By moving the scope slightly between exposures, you can avoid having stars appear in the same spot on each image. When the images are median combined, the stars fall out because they are not in the same place all the time. For example, review the exposure parameters setup and script using them via the TakeImageEx command as shown below. Note that the ShiftWest and ShiftNorth commands moves 3 units instead of 1. This is so that over the three loops of the exposure sets, the scope "walks" west and north a little and so you avoid getting images of the exact same field. This script produces 12 images in total.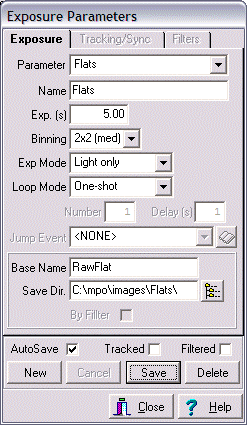 The exact exposure time depends on your setup and what point during twilight you shoot. You want to get about 50% saturation. Most important is the exposure is long enough to avoid any "shutter effects", i.e., the time it takes the shutter to go from closed to fully open cannot be a significant fraction of the total exposure. Generally exposures of no less than 3-5 seconds are recommended.
Each image doesn't have to have exactly the same saturation, since you can use the "Normalized Flat" median combine in the Batch Image processor in MPO Canopus to reduce all the images to a common level before the median combine. This particular method is also very good for when you can't take twilight flats but have enough shots with different star patterns such that the stars median out anyway.